Sister Mary Jane Ranek, Pilgrim Soul
By Bill Burke | Maria Center Resident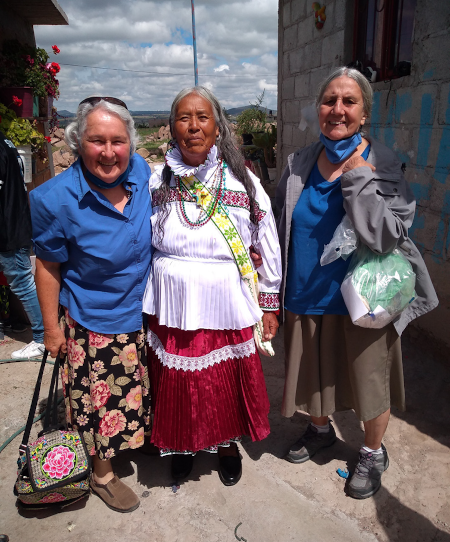 It seems Mary Jane Ranek was born with an active adaptability gene, as she seems to thrive in a variety of situations. In 1959 at age 14 she left home and family in Illinois to join a community of other girls entering Ancilla Domini High School in Indiana. She took to her new environment. The culture of friendship, spiritual guidance, and service brought order and direction to the teenager's life. After graduating in 1963, she took another communal step as a Poor Handmaid postulant. The seeds of her vocation were sown back in the eighth grade in Edwardsville, Illinois, when her Poor Handmaid teacher asked Mary Jane to think about life as a Sister. At Ancilla Domini, she thought about it. Life as a Poor Handmaid might work. In 1966 she had the "great honor" of professing her vows as a Poor Handmaid.
As a young Poor Handmaid, her talents led her to service through music. She studied music at Alverno College in Milwaukee, receiving a BA, and went on to receive two MAs, one in Music Education from DePaul University in Chicago, and one in Music and Liturgy from St. Joseph College in Rensselaer. While she was advancing her own education, she began teaching children, first music and art to fifth graders in Hammond, Indiana, later at various other parish schools for about fifteen years. In 1985, the Poor Handmaids recognized Sister Mary Jane's musical talent, and she was called to the Motherhouse to direct music and liturgy.
During this period, Vatican II was transforming the life of religious congregations across the globe. Sister Mary Jane joined other Sisters in the examination of community life, from dress codes to self-governance. Poor Handmaids paid special attention to core values, a study that called for flexibility and adaptability in the commitment "to serve wherever the need arises."
Eight years later in 1993, Sister Mary Jane answered the call to serve in Santiago de Queretaro, Mexico, which has become her home for the past thirty years. In Queretaro, Sister Mary Jane has found a place where needs are abundant and programs to address them require creativity and flexibility. She joined Sister Marilyn in establishing a Novitiate house for young Mexican women. She also taught at the Conservatory of Music for five years. She helped start a school for children. She directed a sewing program for indigenous Otomi women at El Puente de Esperea (Bridge of Hope) in Queretaro for ten years, as well as coordinated a similar program in the village of San Ildefonso Tultepec. Some of these projects have been undertaken with companions; some have been done alone. For several years she has lived alone in the village of San Ildefonso.
After handing over the sewing program to one of the Otomi women and closing a learning center for children, she began her current mission. In this new chapter of her service, she keeps the challenge of liturgist and theologian Father Robert Hovda close to her soul—"Don't just celebrate Eucharist, be the Eucharist, broken and shared." Three days a week she visits the sick and elderly in nearby villages – praying, talking, and bringing Eucharist. On a typical Tuesday, for example, she and a companion visit an 84-year-old mother and her disabled son suffering from Huntington's disease. The care team assists the family by getting the son changed and washed in the morning. They feed him, talk, pray, clean the house, do laundry, and cook as needed. Then it's out the door to the next family.
In this way she shares life with people who accept trials and hardship as normal for the human condition. Poverty and its attendant afflictions are everywhere. Although the challenges appear formidable, Sister Mary Jane's daily routine is rich with unspoken transcendence. Her life as a Poor Handmaid has instilled in her the rituals of daily prayer and sacrament. In her private prayer, she likes to light incense and candles to nourish her contemplative spirit. She also has the life and inspiration of Saint Katharina Kasper, who taught that God is present everywhere. The same God who accompanied Saint Katharina on the streets of Dernbach to lend help wherever needed accompanies Sister Mary Jane in the streets of San Ildefonso Tultepec.