Associate Community
Saint Katharina's compassionate service and humble spirit attracted others to join her in God's work. In that same rippling pattern.  Associates of the Poor Handmaid of Jesus Christ today are called to share the spirit of Saint Katharina Kasper. We do this by listening attentively to the Holy Spirit, by acting courageously with compassion, and by joyfully serving our families, neighbors, communities, and the underserved. As Associates in the Spiritual Family of Saint Katharina, we embrace the core values of community, dignity and respect for all, simplicity, and openness to the Spirit.
Following a 12-month formation program, candidates make a non-vowed commitment to the Associate Community intentionally engaging in mutual spiritual enrichment, development of community and the promotion of service. The Associate commitment becomes a way of life that integrates, expands and deepens all other life commitments of the Associate.
Learn more about our Associate Community:
Libby Riggs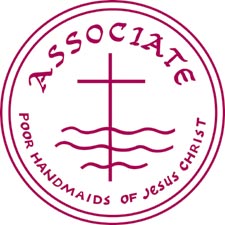 The Associate symbol is an adaptation of the Poor Handmaid American Sisters' community symbol expressing our shared spirit. The symbol of a rippling pool of water captures the broad impact created by a small force. Each one's presence and action combine to create the energy of the small force flowing outward becoming more expansive and inclusive before returning to its source.